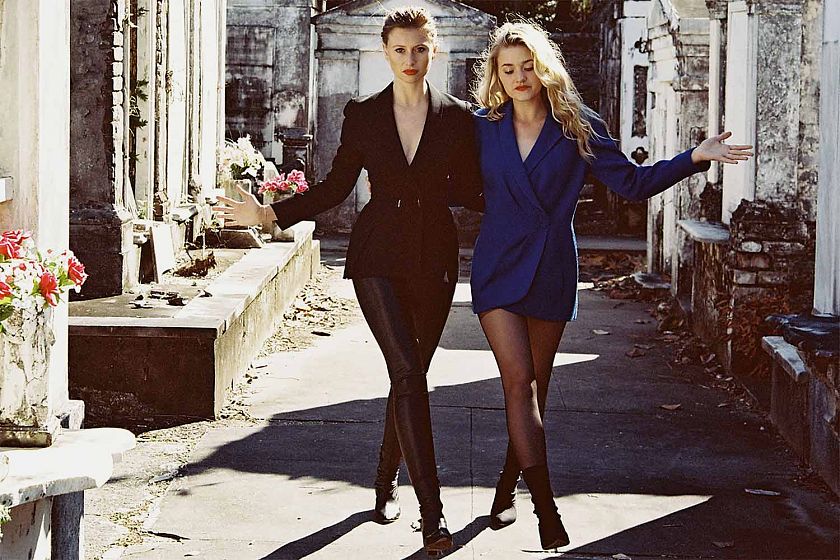 Aly & AJ
Aly & AJ
It's not surprising time is a theme continually revisited by musical sisters Aly & AJ. Having achieved success in the entertainment industry as early adolescents, when the duo step back and examine their time and career achievements they do it differently than most adults. Their 2018 album Ten Years, which came out after a decade long hiatus, felt simultaneously like a new beginning and a reintroduction- exploring the reckless fun of their 20s and the relationships of that era with a light and airy synth-pop throwback sound. Now, Aly and AJ return with an evolution of that sound on their new EP Sanctuary, a five song examination of the soul searching that comes after those feelings writ across the Ten Years EP.

After years of battling with major labels and an industry eager to define their identity and shape their sound and story, Aly and AJ spent their 20s stepping back and pursuing acting opportunities. The Michalka sisters, having always sought solace in songwriting, had lost touch with their musical passion. Their energy poured into their acting and producing projects.

In 2018, they re-emerged with their first release in a decade, Ten Years - a collection of shimmering pop tracks that were brimming with a new found sense of energy and excitement that was impossible to ignore. "Music became our friend again," explained AJ. "Once we were able to take some time and embrace who we were and once we started writing again these last few years, we were able to find the direction we naturally lean," she explains.

Ten Years was received with critical acclaim, with Teen Vogue writing, "It is everything you've been waiting for." MTV wrote "It's impossible not to get sucked into Aly & AJ's creative vision," and BuzzFeed exulted, "Aly & AJ just released a new song and it will be the best three minutes of your life." Behind these rave reviews the EP shot to 21 million streams and sent Aly and AJ across the country on a sold-out tour, where they reconnected with fans in their favorite setting. It was here in the packed out and sweaty dance floors of venues nationwide that the roots of their forthcoming release, Sanctuary, began to grow. The fans were resonating with SPIN Magazine when they called this new music, "Flirtatious, anthemic...Atmospheric and dreamlike...Nocturnal, cool...A rush of glittery, '80s inspired synth pop. It's practically perfect."

"Shows are a sanctuary for our fans. We find a lot of peace and healing comes with talking to them while on tour," explains Aly. "Hearing their stories about how they came to our music or how it impacted their life - it really touched us and we wanted to give something back." Sanctuary does just that- the forthcoming effort sees the duo touch on themes that push the boundaries of pop, moving past break-ups and focusing on stories of identity, self-reflection and socially consciousness. This reflection of wider issues draws a connecting tissue to their earlier songs such as "Rush."

One issue that they encountered often was mental health - the sisters were inspired by the courage their fans showed in speaking up about their experiences with debilitating struggles with depression and anxiety. Growing up in the spotlight, the duo also had their own story to tell. "Depression had held us hostage for so many years and this felt like our time to talk about it," notes AJ. "Music has been like therapy for us, and we wanted to let our fans know that we're not just going to write music that deals with relationships. It is our duty to write some songs that we felt were socially conscious," adds Aly.

The making of Sanctuary finds the sisters at one of the busiest times in their career. The duo worked as a team, but from afar, often working in the studio at different times. "It showed how connected we are as musicians" says AJ, with Aly chiming in, "We're 95% on the same page."

Throughout Sanctuary, 80's inspired synth, electronic textures and layered harmonies are bound together by an undeniable and resounding strength from the sisters who are not afraid to let their voices and stories be heard. This is exemplified in lead track, "Church," as they open with, "I do bad things for the sake of good times I don't regret // Call me what you will, I'm in it for the thrill, I'm just selfish // I need redemption."